Massimiliano Ghirri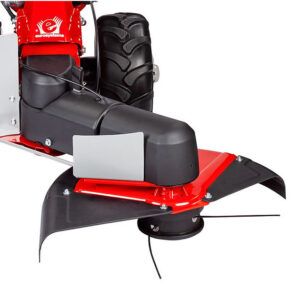 Presented at EIMA 2021, the new accessory for the P55 and MINIEFE multi-tools is ready for its official launch, scheduled for April 2022!
The brush cutter is a work tool that presents a manual autorecharge cutting head containing 2 rolls of wire with 4 exits, 2 of which at a height of 2 cm and 2 at a height of 3.5 cm.
This solution ensures the effective shredding of grass and the reduction of knocks wires are subjected to, consequently lengthening duration.
The head is also fitted with a supporting cup with idle rotation, for easier coverage of land and a patented system for managing wire length, with handlebar control.
The two-belt transmission and lever system for side adjustment and the management of cutting plate incline (0° or 6°), are another two innovative features currently pending patenting.
The brush cutter ATR 60 is especially recommended for cleaning large areas covered in grass up to 50 cm long, for the finishing of edges, flower beds and vineyards.